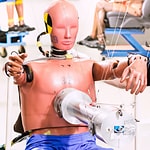 You've heard of the IIHS and NHTSA, and you've seen their vehicle safety ratings in vehicle ads. What's the actual meaning of these ratings? How do people come up with such ratings? Our Dallas, TX Dallas Collision Center team has the answers. Read on.
IIHS Top Safety Pick+
'IIHS' stands for Insurance Institute for Highway Safety. It conducts six crash tests, testing a wide variety of vehicles annually. The crash tests cover common road crash scenarios: roof, side, driver's-side small-overlap front, head restraint, moderate overlap front, and passenger-side small-overlap.
Vehicle performance on each test indicates its crashworthiness, which receives a rating based on IIHS criteria. The ratings are Good+, Good, Acceptable, Marginal, and Poor. Vehicles that score Good or Good+ ratings on all six crash tests qualify to be an IIHS Top Safety Pick+.
NHTSA 5-Star Rating
NHTSA stands for National Traffic Highway Safety Administration. It's a government agency that performs some 90 to 125 crash tests annually. The crash tests entail five main road crash scenarios: side barrier, side pole, frontal crash, static stability, and rollover resistance. The NHTSA's ratings are star ratings of one to five.