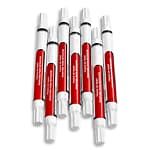 Your new car was bound to get a tiny scratch sooner or later, but you can make it look like new with a bit of touch up paint. Your local auto parts store can provide matching paint from the paint code on the label on your driver's side door.
When you start your touch-up job, be sure you are in a well-ventilated area free from dust and debris. Clean the area to be treated, and clean away any rust with 220 grit sand paper. Apply a thin coat of primer and let it dry overnight, then multiple thin layers of paint allowing each to dry before applying another. Let dry again overnight. Then, just as you did with the paint, apply clear coat in multiple thin layers. Allow a few days for it to harden, then apply a rubbing compound to the entire area following the directions on the compound container.
And you should be good to go!